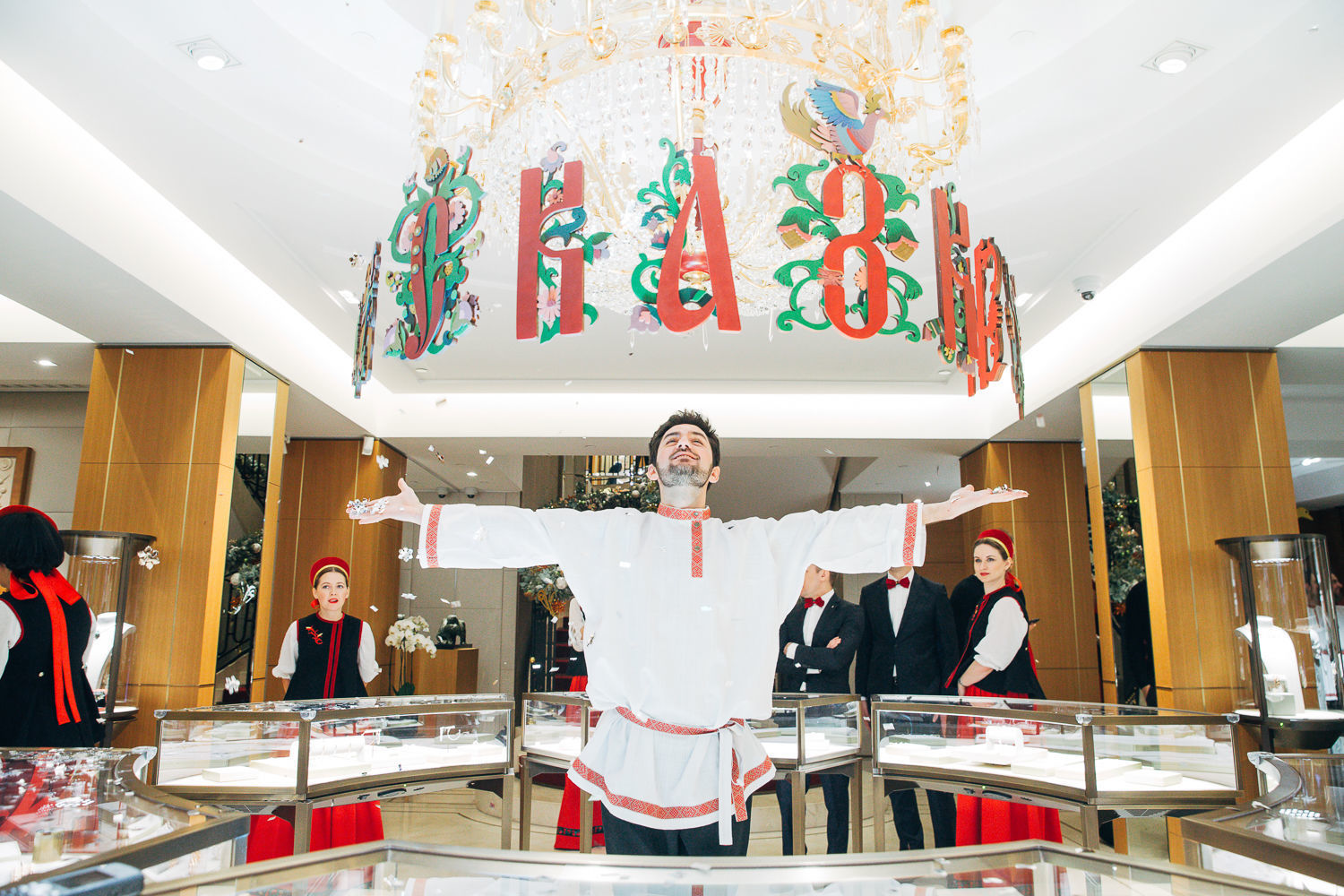 For ten years The Bellarte Creative agency has been supporting the glorious traditions of New Year. Once a year for a whole day The Cartier Jewelry House transforms into a childhood dream by opening its doors to a magical world full of surprises. This year we made a journey to the land of Russian fairy tales and legends.
The set and decorations design were inspired by the illustrations of Ivan Bilibin. In the depth of a dark dark forest lurks the hut on chicken legs, and the only way to reach it is to cross the viscous swamp by jumping from grassey tussock to grassey tussock. Any aspiring noble knights became real heroes by performing three tasks on the Battleflield. By rolling huge boulders made of felt, the young valiant knights measured their strength; helping ships to reach the shore in spite of a raging sea proved the Knight's dexterity; and an archery contest at the "Frog-Princess" shooting range proved their precision. Beautiful little girls were busy at the painted Terem (Russian palace) making pretty Kokoshniks, decorated with coloured ribbons and beads, and by even embroidering traditional patterns. The fairy "learned" can, a huge ginger Maine Coon breed cat, became the children's favourite friend. Yet another enchanting entertainment was a puppet show based on Pushkin's "Tale of the Golden Cockerel", created by the talented artist from St.Petersburg Alina Korytova.
In the midst of the party at the Cartier Jewelry House, Father Frost visited and gathered all the children a dance, then sat down under the Christmas tree to listen to the songs and poems performed by the children. Of course he gave out presents, story books with illustrations by Ivan Bilibin and beautiful boxes of fruit pastilles, made according to an old traditional Russian recipe.