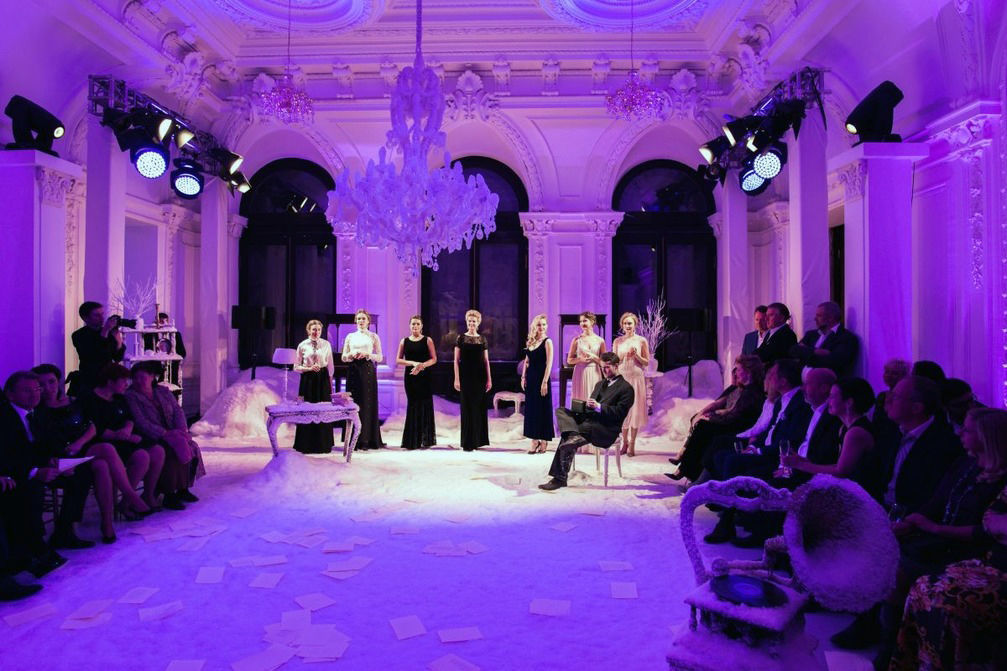 Silver Age, Romanovs, Russian Ballet – these are the names of the collections from Cluev jewelry brand, which are dedicated to the great heritage of the Russian culture and are full of nostalgic reminiscences about the grandeur of the pre-Revolutionary Russia. The names of the collections speak for themselves.
To emphasise the unique nature of the brand at the event dedicated to the opening of its new boutique, we decided to refer to the aesthetics of Russia in the beginning of the 20th century.
We were inspired by the chapter "Christmas at Sventitski's" from Boris Pasternak's "Doctor Zhivago", full of love and poetry, the beauty of Russian winter and the noble life of imperial Russia.
The evening took place in an old mansion in the center of Moscow – Dom Spiridonova. The main staircase was decorated in a true spirit of antique Christmas traditions: fir spruce branches, candles, gilded cones and gingerbread. In the living hall the guests were treated to champagne and pancakes with caviar and enjoyed taking pictures by the Christmas tree cuddling beautiful Russian Greyhound dogs. The chamber orchestra played the music from the famous Hollywood adaptation of "Doctor Zhivago", interspersing it with jazz treatments of Russian classics.
But the main magic awaited for the guests in the grand white hall, where we recreated one of the most beautiful scenes of the film – the interior of an old manor covered in sparkling snow after a snowstorm. The floor, as if covered with a thick layer of snow, deep snowdrifts, a frosted crystal chandelier, snow powdered furniture, all this was the entourage for the key event of the evening - jewelry defile. Eight jewelry sets were presented by eight actresses in eight stories. The female character in each of the eight stories resembled the characters from "Doctor Zhivago" as well as from Pasternak's poems, which were read throughout the evening. A schoolgirl wearing jewelry for the first time in her life; excited traveler just off the train and looking forward to the long-awaited date; secular beauties on a brilliant reception; a girl in a snow-white dress, dreamily waltzing to the sounds of an old gramophone.
After the fashion show, every guest could have a closer look at the jewelry collection, the fitting did not end long after midnight.