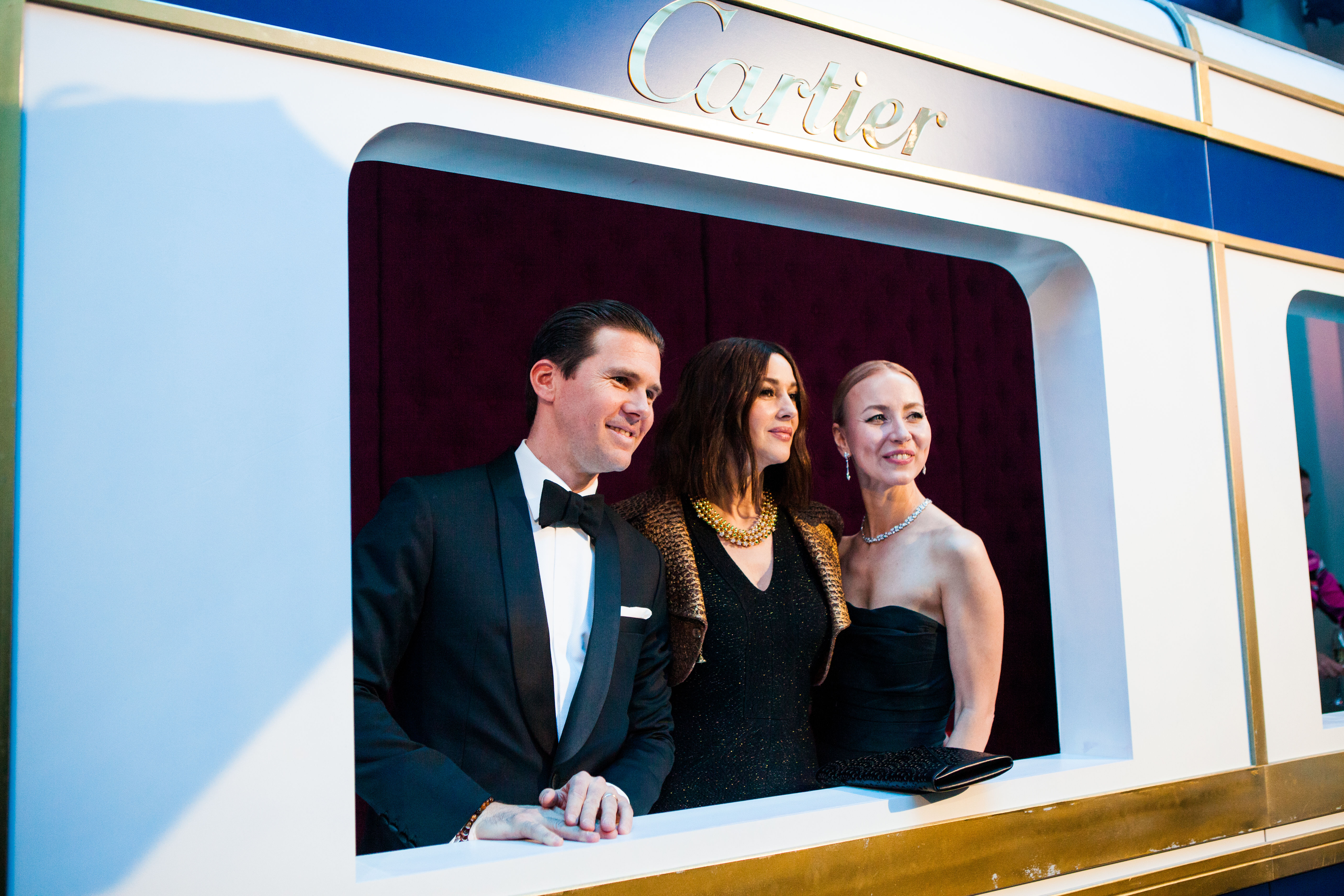 As soon as the guests entered the House of Unions they found themselves in an interior stylised like an old train station.
Trains were the main means of communication at the time when Maison Cartier first came to Russia, so the image of a steam engine became the symbol of this journey that has lasted for over a century - from the end of the 19th century to the present day.
At the foyer we created a station buffet (with samovar, vodka, Russian pies and black caviar) including vintage poster stands, and a ticket booth where guests were given train tickets with their dinner table number. Models dressed in historicaly stylised art deco clothes were mingling among the audience, and the guests' outfits were no less spectacular than that worn by Monica Bellucci accompanied by Cartier director Gregoire Blanche.
After the welcome cocktail the guests enjoyed dinner and a unique perfomance which also symbolized a journey through time.
The performance, visually referring to the pages of a glossy fashion magazine of the 1920s, unfolded on the French Riviera. Jean Cockteau and Natali Poley, Rakhmaninov and Stravinsky, Prince Yusupov and his wife Irina, Diaghilev and Nijinski - the stars of European culture, who were all involved in the history of the jewelry house, became characters in the performance.
The main part of the performance consisted of Le Train Bleu ("Blue Express"), a ballet staged in 1920s by Sergey Diaghilev's ballet troupe to the libretto by Jean Cocteau, was accompanied by music that sounded on European stages at that time.
Historical references and photos from Cartier's archives were displayed on large screens above the stage. The ballet was performed by Anastasia Meskova, prima dancer of the Bolshoi Theatre, Dmitry Sobolevsky, principal dancer of The Stanislavsky and Nemirovich-Danchenko Musical Theatre and other deserved dancers. We also welcomed Ekaterina Syurina, guest soloist of Covent Garden, The Metropolitan Opera, Vienna State Opera and other leading opera houses, who sang songs and arias from operas by Stravinsky, Rakhmaninov and Rimsky-Korsakov.
Finally night fell on the stage and it was immersed into the hot atmosphere of French jazz. The jewelry fashion show of the new Cartier collection became the concluding moment of the performance. So the history of the Maison Cartier in Russia, which started in the XIX century, connected with modern times and opened a new chapter.